Creating a happy island retirement at Glengorm
Sitting on the brow of a steep hill in the grounds of Glengorm Castle, the owners of a remote building plot approached us with a simple brief.
As a newly retired couple, they wanted a house that was easy to maintain and that made the most of the incredible views facing west to the islands of Coll and Tiree. But they also wanted something that looked a little bit different without standing out too much against the beautiful landscape.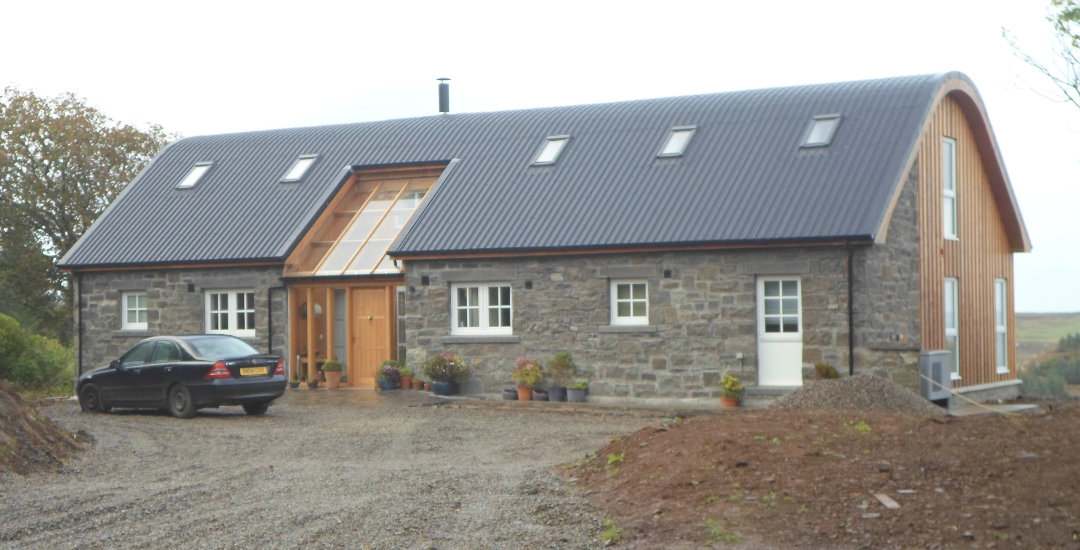 We created a design that made the most of the spectacular location and met the lifestyle needs of the couple. We recommended a one-and-a-half-storey house using a Structural Insulated Panel (SIP) prefabricated building system. A SIP building is affordable, quick to install and well insulated. We incorporated a curved roof into the design to reduce the ridge height of the building and to reduce its visual impact on the hilltop. The curved roof also provided the unique feature that the owners were looking for.
Our innovative design won 'Best Build Outwith the Chapter' category at the RIAS Stirling Society of Architects Annual Awards in 2016.
Location: Glengorm, Isle of Mull
Building type: New build Structural Insulated Panel (SIP) kit house
Brief: Design a simple, easy to maintain private house to make the most of stunning views
Special Feature: Award-winning design including a unique curved roof and beautiful timber cladding
Project duration: 1.5 years