Founded by Principal Architect Sandy Lees in 2010, AGL Architect is based in Bannockburn in Central Scotland.
We've developed a client base that is spread right across the country, from Hebridean Islands to the cities of Edinburgh, Stirling and Glasgow.
Our personal and friendly approach, coupled with contemporary designs and competitive fee structure, mean that much of our new business comes from referrals from happy clients.
We work on architectural design projects of all sizes. From large scale masterplans for regeneration projects and new developments to small house alterations and extensions, we bring the same experience, enthusiasm and collaborative approach to create contemporary designs that meet the brief and delight our clients.
Our Team
Sandy Lees, Principle Architect, founded AGL Architect and has many years experience in private practice throughout the Central belt and has been qualified for 20 years. As a project architect he has experience within the commercial, industrial and residential sectors and brings an enthusiastic design approach to all of the projects he is involved in. Sandy has expertise in social and private housing developments, individual purpose-built houses and small to large scale alterations and extensions to private dwellings. His extensive knowledge of current construction techniques and systems enables his conceptual design ideas to become reality for today's lifestyle and sustainability requirements.
Timothy Crone, Chartered Architect, joined the team in 2022 and brings over 15 years of experience. A versatile designer whose holistic approach coupled with his attention to detail enable him to work with complex briefs without losing sight of the overarching idea. Following graduation from University of Dundee, with first class honours, he began his career in London where he completed his studies while practicing to be a chartered architect before returning to Scotland. Timothy is interested in the use of modern software packages to produce 3D information during the design and development of project. This method can be utilised to promote efficiency and sustainable outcomes while avoiding costly errors on site and adding value to the overall project which we believe will be a huge asset to the practice.
Sean Wainwright, Architectural Technician, has recently qualified. he brings renewed passion for historic buildings and new technologies. Thinking out the box, there's no challenge too complex. He provides a great deal of support and technical expertise to the office. Alongside his excellent technical skills, he is also a keen designer and often helps with preparing design proposals.
Nala, Office Cat, has been with the practice for 3 years. She frequents the office on a daily basis and decides to turn up for work whenever she likes. Sat on her chair she surveys the wildlife inside and outside the office walls and surveys the office management with quiet contempt.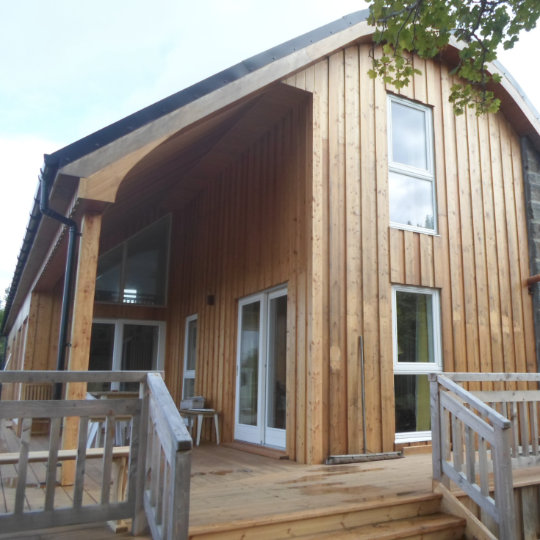 Winner of 'Best Build Outwith the Chapter', Stirling Society of Architects Annual Awards 2016.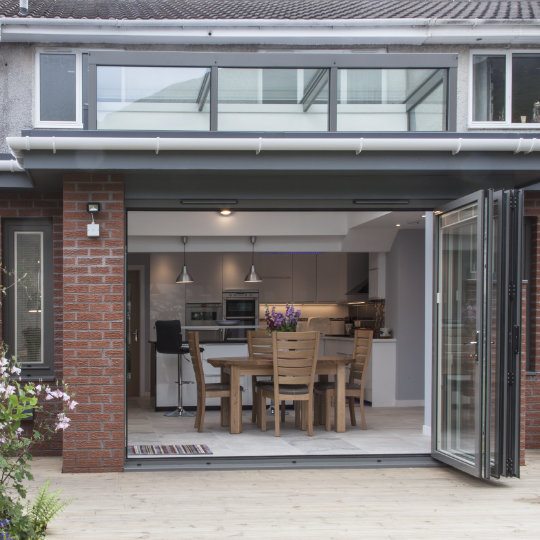 Winner of 'Best Use of Glass', Stirling Society of Architects Annual Awards 2014.
Previous Project References:
New Church Hall
"Dear Sandy,
Over the last 4/5 years we have worked together on two projects at Lecropt Kirk where I serve as the property convener. These contracts were made so much easier with your proactive approach to what the client actually required from the end results The new Kirk hall was developed via a feasibility study that we discussed with Stirling planning department where we all established a quick way forward in the production of the actual agreed design.
The hall was built over some six months where the project team had various amicable friendly discussions leading to a comfortable conclusion meeting all the client's needs.
The interaction we had on the project made my responsibility to Lecropt Session an easy task in that what was decided actually took place.
I have pleasure to recommend your practice for future works at Lecropt Kirk and within the Church of Scotland where your high standards will be appreciated.
Thanks again for your support."
Ian Tasker
Proposed Internal Alterations & Extension to Dwelling House
"We approached Sandy and AGL to confirm that the plans we had in our heads for an extension were workable, and he immediately put our minds at rest. Working alongside Sandy to bring our ideas to life was an absolute pleasure. He kept us right with all the structural requirements and his suggestions to allow more light and more space into the house were so helpful.
Sandy was always very open and gave us the options with which we could work through the project with him. No matter the little changes we wanted to make, or the stages we had to meet with the council and regulatory bodies, Sandy was always there to answer all the questions and advise the best course of action.
We are delighted with the work that Sandy and AGL have done for us, and most importantly, we're delighted with our new extension. We can definitely highly recommend AGL to anyone who is considering a build. He came to us as a recommendation and we were absolutely not disappointed." 
Fiona Gardner, Stirling
New Dwelling House
"Sandy Lees was the third architect we approached to design our house and he was absolutely the right choice.


He is a good listener and came up with a little sketch (he is a good draughtsman) that was just as I had been imagining and from there we went on to create a wonderful house that answers all our requirements and more. It is a very pleasing home to live in. He was always available to us by phone, email, or person … and he had a good relationship with our builder (which is not always the case!).
He was also great at dealing with all the red tape of Building Control, etc . I really enjoyed the whole process of working with him and recommend him highly to any future client."
Janet Nelson, Isle of Mull
Supporting our Communities
We are passionate about the areas we work in. While our roots are in central Scotland, we also feel a strong connection to the island and rural communities we work with so regularly. Sandy is also a big fan of certain sports. So, when the opportunity has arisen, we've supported events that mean a lot to us and to the local communities or specific groups taking part.
Dunblane Curling Club
AGL Architect is the main sponsor of Dunblane Curling Club, which celebrated its 200th anniversary in 2016. It is open to players of all ages and abilities and competes in local competitions.
Stirling International Wheelchair Curling Championships
Although cancelled for 2020, we are one of the regular sponsors of the annual wheelchair curling championships held in Stirling.
Isle of Mull Rugby Football Club junior and mini teams
As well as trying to combine business trips to Mull with attending the annual Isle of Mull Rugby 7s tournament, we also sponsor the junior rugby teams on the island and support Isle of Mull Rugby Football Club whenever we can.